David Smith OBE
We are delighted to have Boccia Paralympic Gold medallist David Smith OBE as a SDSA ambassador.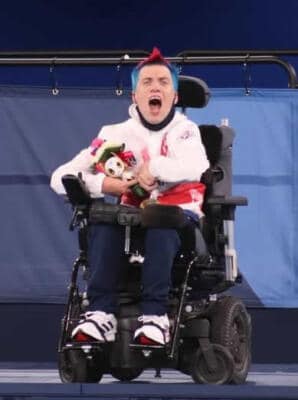 David was born and brought up in Eastleigh, but now lives in Swansea where he did his degree in Aerospace Engineering. His parents still live in Eastleigh, and he visits them as often as possible, hoping to fit in a visit to St Mary's with his dad, as they are both Saints fans, along with his best mate Jack (who is also a die-hard Saints fan).
David started Boccia when he was 6 while at Cedar School in Southampton, but due to his "unique" throwing style, he didn't do that well so he lost interest a little. After moving to Treloar School in Alton at the age of 11, his interest in Boccia grew due to the staff there, and at the age of 14 he became the youngest ever player to win the British Boccia Championships.
While at Treloar School he also expanded his talents to include wheelchair football and hockey, which he won a number of national titles doing. In his final year, he was elected head boy and took on the management of the wheelchair football and hockey session. In his spare time he learnt how to drum.
When David was 16, he transferred to the college part of Treloar to complete his A levels in Physics and Maths (at Alton College). He was now playing Boccia internationally, so there was less time for his hobbies and other sports.
Although David is best known for his colourful hair designs and winning gold at the 2020 Tokyo Paralympics in 2021, he started his gold medal collection 2007 by winning both the individual and team Gold at the World Championships before helping the team win a historic Gold medal at the Paralympics in Beijing the following year.
After Beijing, David went to Swansea University but due to his Boccia training and tournaments, he took 6 years to complete his degree. After completing his degree, he decided to remain in Swansea and setup a base to carry on his successful Boccia career.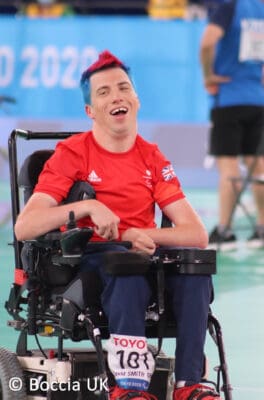 David became world number 1 in 2009, and then won an individual Silver medal at the 2012 London Paralympics as well as helping the team win a Bronze medal.
In 2014, David won an individual Gold at the World Championships and became world number 1 again and followed that by winning an individual Gold medal at the 2016 Rio Paralympics 2 years later. He won a 4th individual Gold at the World Championships in 2018, before preparing for the 2020 Paralympics.
In 2021, David won an individual Gold at the 2020 Tokyo Paralympics and is now the most decorated British Boccia player in history and the first BC1 (his class) to defend a Paralympic title. He followed his Paralympic gold with a European Championship Gold a few months later.
Due to his extensive Boccia successes, he was appointed a Member of the Order of the British Empire (MBE for short) in the 2017 New Year Honours and was given the huge honour of being Paralympics GB flag bearer in Tokyo. He was appointed OBE in the 2022 New Year Honours.
David fits with the aims of the SDSA as he is actively trying to encourage participation in disability sport (especially Boccia) and says that if there was a Premiership Boccia league he would play for the Saints!
Of course, the SDSA have a main interest in football, but we do want to help any disabled local teams that play any sport. If you are a local disability club, contact us at [email protected], or come to our annual Open Day at St Mary's every August, where there will be many other local clubs doing demonstrations.
Thank you, David, for agreeing to be a SDSA Ambassador.
Are you the next David Smith? To find your nearest Boccia club, visit https://www.bocciaengland.org.uk/
All pictures of David on our site have been kindly provided by, and are copyright of, Boccia UK. or David himself.
View our other Ambassadors.