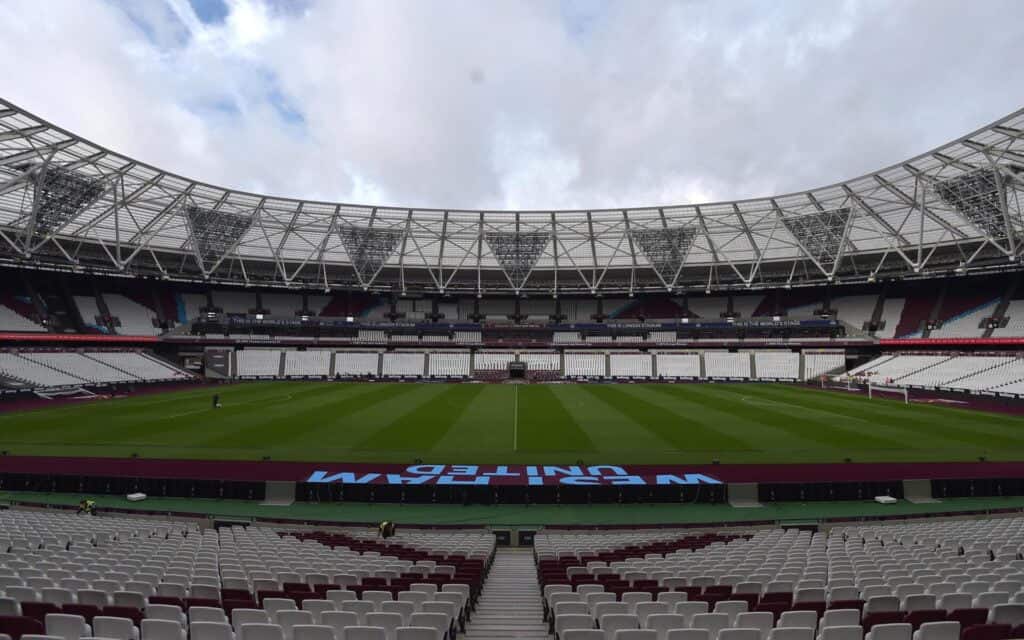 London Stadium, Queen Elizabeth Olympic Park, Stratford, London E20 2ST.
Google Maps Link, and directions from Google Maps. Travel time by car: 2 hours 23 minutes, (We assume starting location as St Mary's, Britannia Road, Southampton).
By train and tube
Overground trains travel regularly from Southampton Central and Southampton Airport Parkway to London Waterloo and take between 1 hour 15 minutes and 1 hour 45 minutes. There is disabled parking as Southampton Central and Southampton Airport Parkway.
For assisted travel, call Network Rail on 0800 52 82 100 (freephone) at least 4 hours prior to travel. There is at least one wheelchair bay per train, so book in advance to be sure to reserve the spot. Powered scooters come in all shapes and sizes, and unfortunately some are unsuitable for train travel. If you wish to take a scooter on a train, you'll need to complete a Scooter Card application form – and then send it to South Western Rail. They recommend doing this early as it takes up to two weeks to process.
There are accessible toilet facilities opposite platform 19 at London Waterloo through the main arch (exit 3) on the left. A Radar key is required.
There is step-free access to the London Underground from Waterloo Station. You will need Exit 2 (via lifts to Waterloo Road and level Access to the Jubilee line). The East-bound Jubilee line (Silver in colour) then takes you from London Waterloo to Stratford underground station.
For details of accessible facilities at Stratford station, please click the link below.
There four other train and tube stations in close proximity to London Stadium, served by a number of train lines.
For details of each click below.
West Ham United also provide a complimentary Access Shuttle Bus Service and drop-off facility as a means of making the connection to London Stadium as convenient and comfortable as possible (see below for details).
Accessible Shuttle Bus Service
West Ham United provide a total of 18 complimentary shuttle buses on every home matchday to assist disabled supporters and fans with accessibility requirements in travelling to and from the Stadium. A permit is required to travel and is available from Julie or Joanne in the accessibility team at West Ham (details below).
Eight buses operate continuously between the collection point at the end of Platform 13 at Stratford Station to the Stadium two hours prior to kick-off, with 18 shuttles running for up to a maximum of 90 minutes after the full-time whistle. Please note, road closures are in place post-match to provide safe routes for home and away supporters leaving the stadium and so the shuttle buses do not leave until the traffic restrictions have been lifted.
If you require any assistance please contact Julie or Joanne in the accessibility team at West Ham on
0333 030 0174
or by email at [email protected]. Lines are open Monday to Friday, 09:00 – 17:00.
Car Parking for visiting supporters
There are six (6) spaces reserved in their accessible car park for supporters of the visiting club.  If you wish to book accessible parking, contact the Disabled Liaison Officer at St Marys Stadium on Supporter Relations on 02380 711 980 or send an email to Aaron at Southampton Football Club at [email protected] or contact Julie or Joanne in the accessibility team at West Ham on 0333 030 0174 or email [email protected] for further advice. All spaces are subject to availability. The designated blue badge car park, known as Car Park 1A, is located in the south west corner of the stadium, and will be attended by one of West Ham's stewarding team. There are 2 spaces which are also available upon request in Car Park 1A for commercial vehicles with hoists.
Street parking is available for blue badge holders either in dedicated blue badge bays, or a vacant residents' bay. For more information regarding street parking in this area, visit the Newham Borough Council website here.
Please remember to clearly display both your blue badge and clock.
Supporters visiting London Stadium can take advantage of accessible drop-off areas at Westfield Stratford, located at the entrance of each car park.
Facilities within the stadium
The following links provide information on the facilities available for disabled supporters in the stadium and these include; access within the stadium, toilet facilities, adult changing rooms, how to access around the concourse and how to avoid queues if you are able to stand or wait in queues.
Here is a map of the accessible facilities around the stadium.
Here is a larger downloadable version Accessible Facilities Map
Facilities within the concourse are available here – Accessible concourses
Queuing
If you can't queue, look out for the stewards in pink tabards. They are there to help the disabled. Here is more detail on this. Queuing
Accessible toilets
All of London Stadium's accessible toilets are unisex, and available on all levels close to wheelchair bays. These facilities are larger than standard wheelchair-accessible toilets, and include a height-adjustable changing bencher hoist and room for up to two Personal Assistants. Fully accessible toilets & changing rooms are also available across London Stadium.
Changing Facilities
London Stadium has three changing places facilities, two situated on podium level, and one on the Stadium's upper tier.
We also attach below a link to the AccessAble guide for the stadium.