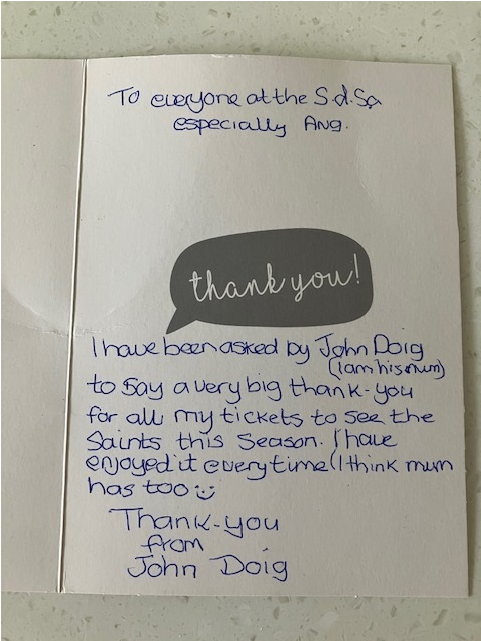 We recently received a thank you card from 1 of the users of the SDSA Matchday tickets. This was very appreciated by the SDSA Committee.
Each season, the SDSA buys 8 season tickets, using funds raised during the previous year or using donations given to us to buy season tickets.
These season tickets are allocated to disabled supporters, who wouldn't normally be able to see Saints play, on a match by match basis.
As there are 19 home games per season, and we have 8 season tickets, we can potentially allow 152 different disabled supporters see Saints play during the season.
To see more about the matchday tickets we offer, and apply to be added to our list, please see our Matchday Ticket Section.
If you are offered the use of a SDSA ticket, you will also get a second ticket for your helper, and if you need parking, we may be able to help, as we have a few parking spaces at the stadium.
Although not a condition of using 1 of our tickets, we do ask that you send us a picture of your day that can be added to our Matchday Ticket Appreciation page.