If you love watching football but don't get to go to many live games because of a disability which you think may make it difficult for you to gain access, click on the links below to see accesible information on local clubs.
They are currently in the Vanarama league which is tier 5 after league division 2 and are a full time professional club so they are the highest ranked local club next to Southampton FC.
The club have recently had a raised wheelchair platform built that will hold up to 3/4 wheelchairs and their enablers all of which are under cover and a further 2 without cover There is a ramp leading up to it and it is situated just along from the dug outs so just left of the centre line.
They also currently have 17 wheelchair bays in the Community Nuffield Health Stand behind the goal which are at pitch level. These are under cover but in reality no seat that is at ground level will be toally dry if it is driving rain. Companions can be seated either next to, or in the row behind the wheelchair user. This depends on the number of ambulant disabled supporters requiring seats on the front row. They currently provide a complimentary drink/chocolate bar service to supporters who are sat in the wheelchair/ambulant bays in the Nuffield Health stand and the new platform and these are ordered prior to kick off and delivered at or just before half time.
Parking:   Disabled parking is available free of charge for blue badge holders and if you contact [email protected] beforehand, you will be guaranteed a place. Other availability will be dependant on a first come first served basis.
Toilets: There is an outside accesible toilet adjacent to the Nuffield Health stand but not radar locked and fairly difficult for wheelchair users but there are also fully accessible, radar locked disabled toilets in Sherwoods restaurant which are available for use. Just inform the steward on the door where you are going.The Hangar bar is not radar locked.so ask for a key if you need one.
Clubhouse Facilities: The Hangar bar is a friendly free entry bar that can only be accessed from outside the ground before kickoff. At half time it can be accessed from inside and has a good selection of alcoholic and non alcoholic drinks (real ales regularly feature in this bar!). There's an area of decking outside for those warmer days, and live football is shown on a big screen.There is a ramp for supporters to access the Hangar. The downstairs Sherwoods bar is open to all on a first come first served basis and it is £3 admission per person as it has the status of a members bar. Both the shop and reception are fully accessible and a lift is available for the hospitality suite where it is fully accessible and match day packages can be purchased to enjoy full Eastleigh FC hospitality.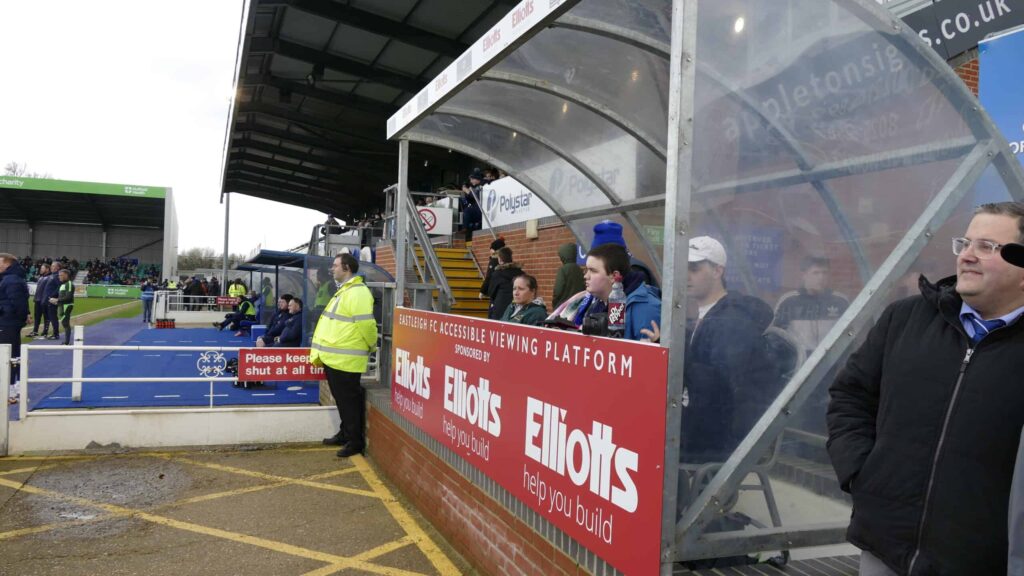 Tickets:  Disabled supporters pay appropriate pay age prices with a free carer and can be purchased either online, by telephone or in person. You will be asked on arrival for proof of middle/higher rate PIP/DLA  if you have purchased online. Prices are cheaper if bought in advance so these are the current seat prices:
Adult age 22-59 £15 in advance £20 on day
Senior conces 60+ £10 in advance £15 on day
Student age 17-21 £ 5 in advance £10 on day
Junior age 12-16 £ 2 in advance £ 5 on day
Child under 11 free
Supporters with autism or other sensory needs: They are currently working with a local branch of the National Autistic Society to enable them to become an autism friendly club. They hope that this will enable people, who may otherwise struggle to cope in such an environment, to have a positive experience when they visit the club. They have recently invested in some ear defenders and also some sensory/distraction items that are available to use. They are also developing a picture/video guide to all parts of the ground which will hopefully benefit some supporters. Gazz Davidson has become the Autism ambassador so any queries or issues with any specific needs please contact him on [email protected] 
Any person with a disability is also able to visit the ground on a non match day, where you will have the opportunity to be shown around by a member of staff. During this visit, any questions can be asked, and supporters and their families/carers can see where the facilities are and where the most appropriate place to sit/stand would be.
Contact details:  Any further questions, please do not hesitate to contact Sarah by email on [email protected] or Gazz on [email protected] or through twitter @dlo_eastleighfc.
Telephone 02380613361