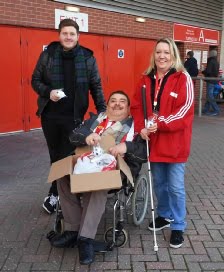 Before the game against Swansea, the SDSA Committee manned (and womaned) the disabled entrances into St Mary's and handed out footballs that contained rain capes/clear ponchos to disabled supporters as the went into the stadium.
Although rain wasn't planned, the SDSA have been working with the Saints Foundation to source rain protection for disabled supporters (mainly those sitting pitch-side that are more likely to get wet if it rains during a game) for some time, and the Swansea game on Sunday 1st February was chosen as the game to hand out the rain capes.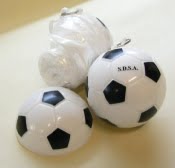 The rain capes are rolled up and stored within a football that has a clip so the rain cape can be attached to keys, handbags, or trouser belt loops (or wherever else you might like to attach it to!).
Once the rain cape is no longer useable, the football is still a useful accessory to store a bit of spare change, a key, or any other small knick knacks there are useful to carry with you.